EdCamp Vermont was the very first EdCamp in the State. Sponsored by the Vermont ASCD, hosted a small, dedicated group of educators on April 14, 2012.
Our
site
is filled with notes and photos from the day.
---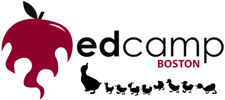 The first EdCamp Boston was scheduled for May 7, 2011. Check out our
site
. Follow the official
#EdCampBoston hashtag
and the
EdCamp Boston Twitter
account.
---
I plan on leading a discussion at EdCamp NYC that will be similar to Kansas City. Although, so much has changed in just one month.
EdCamp NYC
wiki page
for my session
---
I am planning on attending and leading a session at:
EdCamp NYC, December 4, 2010
EduCon 3.0, January 28-30, 2011 (I applied to do Hacienda EduCon)
NT Camp (Burlington, MA), February 26, 2011
TeachMeet New Jersey, March 7, 2011
EdCamp Birmingham, April 30, 2011 (if my wife lets me go :)
EdCamp Boston, May 7, 2011
---
I led a session called
Ed Reform, A Call to Action
at the awesomely fantastic EdCamp Kansas City on November 6, 2010.
I think it is worthwhile to share the resources I created for the day.
If you would rather go individually, here they are:
Prezi presentation to start the conversation
Web site with links to resources and people mentioned
Google Doc of our first draft of a letter to the editor. We talked so much together that we didn't complete the letter. Totally worth it because the conversation was intense.
I am very thankful to all the participants for engaging in such strong conversation.