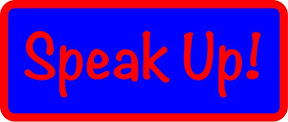 This is the fourth in a short series examining the blog post,
"What We're Trying to Say Here..." Media Training Tips for Teachers
by Roxana Elden.
I have recently shared some of Roxana Elden's article about media training for teaches. Now for the most important lesson.
Speak Up!
You know that America's public schools are not failing. You know that there are only a few bad apples among the many good and great teachers. You know that know matter what 'they' say, poverty makes a huge difference. You know that all of the testing regimes out there show results that are split largely by socioeconomic-economic status. You know that your unions protect you and have given you a decent salary.
Speak up and defend our schools and our profession. You have to engage people on the local scene, write blogs articles, showcase what works in your classrooms, comment on blogs, talk to your non teacher friends, write to the editor of your local paper. Do what it takes to stand up for our schools.
- Posted using BlogPress from my iPad